Featured Story: Enhanced outpatient prior authorization tools now available
Providers now have access to an enhanced prior authorization process that gives you immediate approvals for outpatient services that meet criteria.
In This Issue
---
Enhanced prior authorization tools now available
AllWays Health Partners has launched several enhancements to our digital prior authorization tools:
Code checker. This new tool will let you search by code to see authorization requirements instantly. By having easy access to the latest requirements, this will reduce the number of unnecessary requests and save you time.
Fast approvals.

Certain covered, medically necessary outpatient services will receive approvals in seconds.
Approvals at any time.

Get approvals 24-hours a day, 7 days a week.
Seamless process.

Request authorization and enter medical necessity information on the same screen for ease and efficiency.
You can access these tools by logging into the provider portal.
You can check out our Prior Authorization page to get more information about these improvements. This includes a factsheet describing how to use the new prior authorization request system and a recording of a recent outpatient prior authorization webinar.
---
Survey: Appointment access
AllWays Health Partners wants to better understand member wait time experiences. Primary Care and Specialty providers, please complete this brief survey of appointment availability.
To complete the survey, look at your scheduling system to provide accurate dates and times for appointment availability.
We appreciate the care you provide to our members and thank you in advance for supporting this important effort.
---
Join Provider Roundtable - our online advisory group
Provider Roundtable is an exclusive community of network providers, where you and your colleagues can share your thoughts on our products and services. Through surveys, discussion boards, and more, you can talk to us directly about what you think we're doing well and what we could improve. In return, we'll show you how we're using your feedback. And you'll be among the first to know about our latest news, products, and services.
---
Allies HMO is now available to large groups in the service area
Allies, a brand new health plan product in partnership with Newton-Wellesley Hospital, is now available to large groups in the service area. Some of the features that Allies members have access to include:
A dedicated health navigator
Quicker appointment times for select specialties
Enhanced virtual care
Allies members have access to the Newton-Wellesley Hospital Community Plus network
Visit the Provider Directory to verify which practices are included in the Newton-Wellesley Hospital Community Plus network.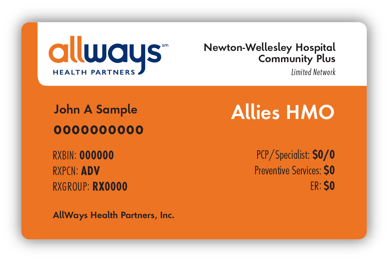 Watch our Allies provider training to learn more.
---
COVID-19 updates
Reminder: Network providers have access to AllWays on Teams, our FREE telehealth platform in partnership with Microsoft
We understand how important virtual care is during these challenging times, and we are committed to ensuring that all our network providers have access to a high-quality telehealth platform.
As we prepare for any potential second surge of COVID-19, we want to remind you that all network providers have access to AllWays on Teams, our telehealth platform in partnership with Microsoft - and at no cost.
Register for AllWays on Teams today to get started.
Reminder: Check our COVID-19 FAQs for the latest updates
Our COVID-19 FAQs for providers give you the latest information, updates and resources. We are constantly updating these FAQs as more information becomes available from the Federal and State governments. Please check back periodically to get the most recent news.
Read the COVID-19 FAQ for Commercial providers

---
HEDIS data collection starts in January
The Healthcare Effectiveness Data and Information Set (HEDIS®) is a widely-used standardized set of performance measures developed and maintained by the National Committee for Quality Assurance (NCQA). HEDIS was designed to help consumers compare health plan performance to other plans and to national or regional benchmarks.
Each year, NCQA requires health plans to collect and report HEDIS data from contracted providers. HEDIS data collection will run from January 2021 through April 2021. A member of AllWays Health Partners' HEDIS staff will ask you to fax, mail, submit by FTP the information or schedule an onsite review at your location.
Based on the HEDIS measures, PCPs and a subset of specialties such as OB/GYN, cardiology, ophthalmology, and optometry are the most likely to receive a medical records request.
Accessing medical records
To help simplify the process, please provide the contact information of the staff who manages access to your organization's medical records as well as the best way for us to contact them.
We appreciate your cooperation and timely response during this review and thank you in advance.
For more information, view the HEDIS FAQ
---
Formulary updates
AllWays Health Partners regularly reviews and updates our formulary to ensure alignment with the industry. Check out the latest updates effective January 2021.
For the latest information on our pharmacy programs, visit our online formulary today.
---
Medical policy
The following medical policy updates are effective November 1, 2020:
Corneal Collagen Crosslinking - Annual review. References updated.
Luxturna – Annual review. References updated.
---
Code updates
Stay current on the latest code and reimbursement updates.
Check out the latest updates here.
---
Reminder: Confirm your Provider Directory information
To ensure that your patients and prospective patients have access to the correct information for your practice, it is important to regularly validate your practice information in our Provider Directory and let us know when an update is needed.
Remember to review information such as: contact information (telephone, fax, email), addresses, website information, network participation status, availability to see new patients, and which individual providers work at each practice location.
You can submit a provider information update request 24/7 through our secure Provider Portal or by submitting the Standardized Provider Information Change Form to pec@allwayshealth.org.