In This Issue
Welcome to Clinical Digest, a monthly newsletter with tips, news, and information for clinicians.
---
May Insights: Adapting to the new normal
by Christine Murphy, Vice President of Network Management
It's been two full months since the beginning of the COVID-19 state of emergency, and we are, to borrow a phrase from Winston Churchill, at the end of the beginning. Memories of "normal" life have started to get a little hazy. For example, I have become accustomed to empty freeways when I'm out driving; similarly, when I watch TV, scenes of people in close quarters or sharing food seem strange and alarmingly dated.
To quote Robert Frost, "…I can see no way out but through." It's anybody's guess what life – and health care – will be like when this is all over, but every day I'm inspired by how we are adapting. I see local restaurant owners who serve takeout (and sell groceries) from their doorways. I read about the Woburn public library, which is using their 3-D printers to make protective gear. I watch videos of health-care workers on the front lines as they celebrate the discharge of a patient who beat COVID-19. I see my own colleagues working from home, juggling children, parents, and work with grace.
These examples and countless others give me hope that though life after coronavirus may never be the same, it will change in positive ways we never imagined.
Tip of the month: COVID-19 FAQs for providers
During the pandemic, we're collecting all of our COVID-19 information into two easy-to-read FAQs, one commercial plans and one for My Care Family. These FAQs answer questions about testing, treatment, telemedicine, and more.
In case you missed it: Top content for doctors and clinicians from the past month

Beyond the bubble: What will telemedicine be like after COVID-19?
Telemedicine has experienced a surge in popularity due to social distancing. Experts debate the lasting impact after the COVID-19 crisis.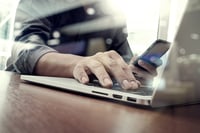 3 tips to improve your virtual visits
Here are three tips on how to enhance telemedicine appointments for you and your patients.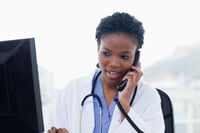 Protect yourself and your patients from pandemic scammers
Consumer warnings and safety tips for medical scams targeting both patients and providers during the coronavirus pandemic.