Featured Story:
Meet Dr. Amy Comander MD, Director of Breast Oncology and Survivorship at the Mass General Cancer Center in Waltham and Newton-Wellesley Hospital
Dr. Amy Comander specializes in the care of women with breast cancer at the Mass General Cancer Center in Waltham and Newton-Wellesley. In recognition of National Breast Cancer Awareness Month, learn more about Amy and the life-changing work she participates in each day to support those impacted by a breast cancer diagnosis.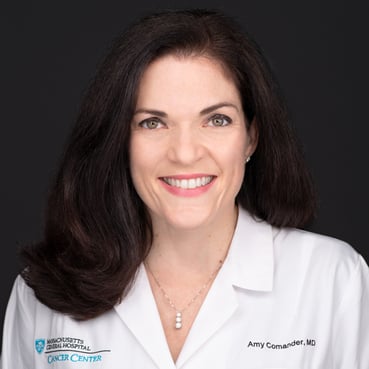 In this issue:
NEW behavioral health resource webpage for patients
On-demand webcast by Optum

Urgent authorization requests

PANS/PANDAS services

Allies update

EFT and ERA payment changes

Hospital inpatient utilization report

Provider portal access for your entire team

Revised medical policies

Code updates

Formulary updates



---
Urgent authorization requests
If you have an urgent authorization request you should page the on call nurse reviewer at 1-855-444-4647 after submitting the authorization and corresponding clinical information, otherwise there could be a delay in these urgent requests.
---
Does your practice provide PANS/PANDAS services?
Following a recent state mandate, AllWays Health Partners is working to ensure our members have access to providers who can diagnose and treat Pediatric Acute-onset Neuropsychiatric Syndrome (PANS) and Pediatric Autoimmune Neuropsychiatric Disorders Associated with Streptococcal Infections (PANDAS).
If your practice provides these services, please take a moment to fill out our brief survey. You'll be asked for information about your practice and area of expertise. With your permission, we'll also use your submission to refer patients to your practice.

Your response to this survey will help us ensure adequate network access to PANS/PANDAS services for our members. We appreciate your participation!
---
Allies update
Effective October 21, the Allies network is changing its name from "Newton-Wellesley Hospital Community Plus network" to Allies HMO and Allies Choice HMO networks.
Stay tuned for more info next month.
---
Have you signed up for provider roundtable?
Provider Roundtable is a unique online forum where providers in our network can share their feedback on our products, services, and more.
In the Roundtable, members can quickly share their thoughts and ideas through surveys, discussion boards, and other activities — most of which take less than five minutes. In return, we'll show you how we're using your feedback to make improvements that benefit you, your colleagues, and your patients.
---
EFT and ERA payment changes
If you are currently receiving EFT payments from AllWays Health Partners, you will continue to receive EFT payments after December 2021.
After November 17, providers will no longer automatically receive 835s from AllWays Health Partners. To learn more, visit provider.allwayshealthpartners.org/paymentoptions
---
Hospital inpatient utilization report
The latest quarterly hospital inpatient utilization report is now available. To review this report, click on the Reports tab in the Provider Portal and select Clinical Reports. If you do not have access to the Provider Portal, you may register online at allwaysprovider.org.
---
Is your entire practice registered for our provider portal?
Ensure that your staff is registered on our provider portal, so that they can check eligibility, the status of a claim, submit prior authorization requests and more. Learn how to register and more at provider.allwayshealthpartners.org/provider-portal
---
Medical Policy Updates -October 1, 2021 Effective Date
Five medical policies were reviewed and passed by the AllWays Health Partners Medical Policy Committee. These policies are now posted to allwayshealthpartners.org
The table below is a summary of the policies and the changes: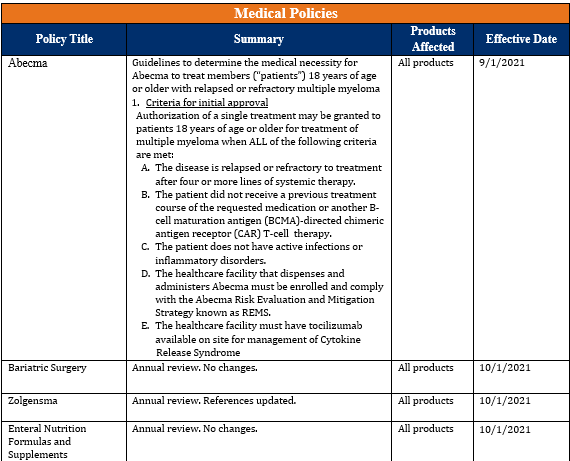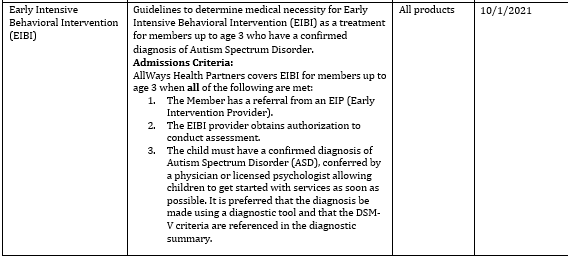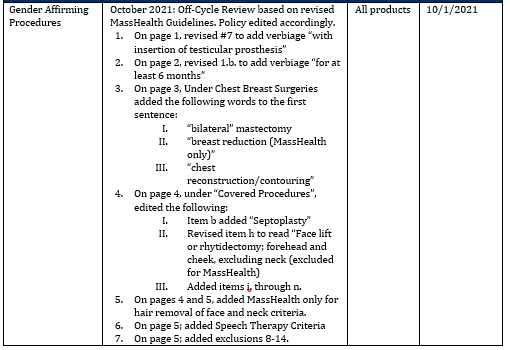 For more information or to download our medical policies, go to allwayshealthpartners.org/providers/medical-policies and select the policy under the medical policy listings.
---
Code Updates
Code Updates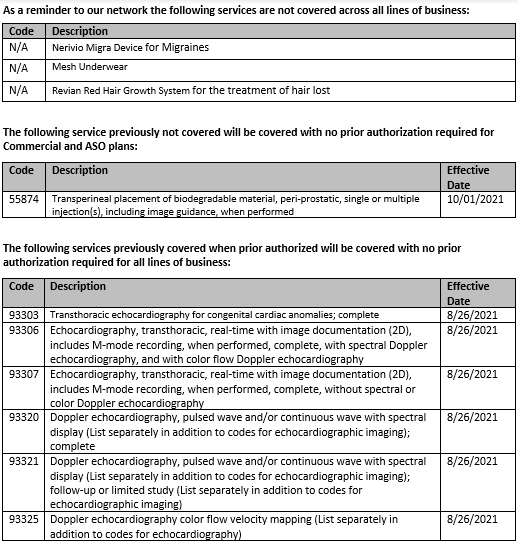 New codes summary