Featured Story:
Meet Barry Shelton: peer recovery coach at AllWays Health Partners
Did you know that AllWays Health Partners was one of the first health plans in the country to have peer recovery coaches on staff? Seeing as September is National Recovery Month, we want to take this timely opportunity to share some of the life-changing work of our Peer Recovery Coaches and the impact that has on members' access to the different pathways of recovery.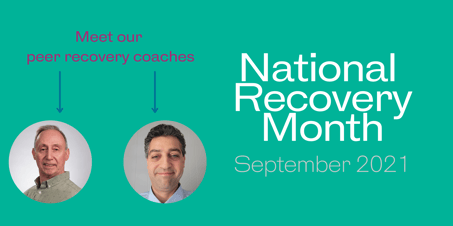 In this issue:
On-demand webcast by Optum
AllWays Health Partners' Drug fee schedules to be updated
Claims editing system upgrade
InterQual 2021 Updates
Cardiac Imaging- change in PA status
COVID-19 specimen collection
Urgent authorization requests

Revised medical policies

Code updates

Formulary updates



---
On-demand webcast by Optum
Sign up now for Behavioral Health Identification, Treatment and Referral in Primary Care - A 3-Part On-demand Learning Series from Optum (earn up to 3 credits)
---
AllWays Health Partners' Drug fee schedules to be updated
AllWays Health Partners reviews its drug fee schedules quarterly to ensure that they are current, comprehensive and consistent with industry standards, to the extent supported by its systems. In most cases, changes involve adding fees for new or existing codes, to supplement the fees already on the fee schedule.

The next update will occur on October 1, 2021. Changes may involve both new and existing CPT and HCPCS codes, and will include the planned quarterly update to physician administered drugs, immune globulin, vaccine and toxoid fees.

---
Claims editing system upgrade
We upgraded our claims editing system to better reflect the industry standards within the New England market. Effective August 16 we moved to ClaimsXten. This will improve claim accuracy and reduce appeals. For more information, visit their website.
---
InterQual 2021 updates
InterQual imaging criteria, which includes High Tech Radiology and Cardiac Imaging, has been updated to the 2021 version. All other InterQual criteria will be updated to the 2021 version by October 1, 2021.
---
Cardiac Imaging- change in PA status
Effective immediately (9/1/2021), prior authorization is not required for the following CPT codes related to Cardiac Imaging:
93303

93306
93320
93321
93325
93307
---
Covid-19 specimen collection
Beginning September 16, 2021, Covid-19 specimen collection will be no longer be separately reimbursable for the MassHealth LOB. Specimen collection is included in the reimbursement of the Covid-19 lab test or Evaluation and Management Service. For more info, visit mass.gov
---
Urgent authorization requests
Reminder for providers: If you have an urgent authorization request you should page the on call nurse reviewer at 1-855-444-4647 after submitting the authorization and corresponding clinical information, otherwise there could be a delay in these urgent requests.
---
Medical Policy Updates -September 1, 2021 Effective Date
5 medical policies were reviewed and passed by the AllWays Health Partners Medical Policy Committee. These policies are now posted to allwayshealthpartners.org

The table below is a summary of the policies and the changes: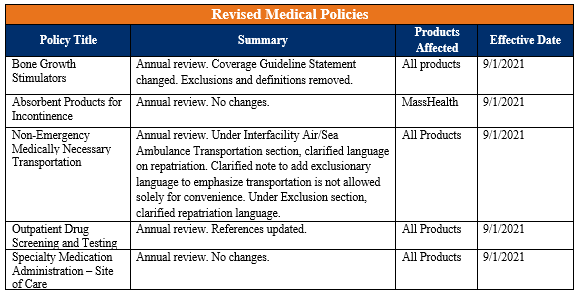 For more information or to download our medical policies, go to allwayshealthpartners.org/providers/medical-policies and select the policy under the medical policy listings.
---
Code Updates
CPT Code Updates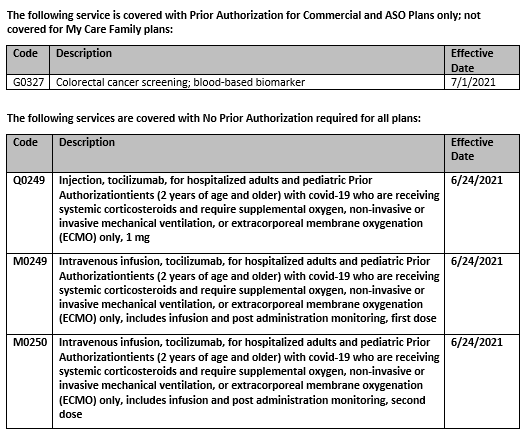 Drug Code Updates