Featured story:
What to know about kids and COVID-19
As part of an integrated health system, our team at AllWays Health Partners remains committed to ensuring access for our members to critical healthcare services throughout the COVID-19 pandemic. Now that children ages 5 to 11 who live or go to school in Massachusetts are eligible to get the Pfizer vaccine, we wanted to share some recent findings from one of our system's experts: Lael Yonker, MD Director, Pediatric COVID-19 Biorepository and Director, MGH Cystic Fibrosis Center at the Massachusetts General Hospital for Children.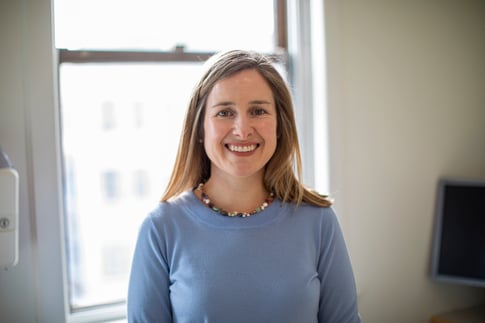 Keep reading
In this issue:
New federal requirements for provider directory information
New ID cards
Available resources
Preventative behavioral health service for Mass Health patients
Medical policy updates
Code updates
Formulary updates
New federal requirements for provider directory information
Beginning January 1, 2022, new Federal requirements in the No Surprises Act have placed greater importance on provider directory accuracy. Health Plans will be required to verify provider directory information every 90 days and remove providers from directories if unable to validate a provider's information.

Examples of information that providers need to review, and update include:
• open/closed patient panel
• practice location where a patient can make an appointment
• patient appointment telephone number
• practice email address
• hospital affiliations
• website address
• group name
If details about your practice have not changed, you must still verify and attest to data quarterly. You can do so in by logging into CAQH Proview to review and/or update your information.
You can also submit a provider information update request 24/7 through the AllWays Provider Portal or by submitting the Standardized Provider Information Change Form to pec@allwayshealth.org
Due to these changes, AllWays Health Partners is performing an annual assessment on the accuracy of data in our provider directory. In order to better support our members and providers, we ask that you verify that your directory entry is complete and correct.
---
Mandated reimbursement for services related to testing and treatment for COVID-19
AllWays Health Partners will adopt DOI-mandated reimbursement levels for COVID-19 testing and treatment. We will not make any adjustment to these rates. We are also in the process of completing a retrospective review of payments to resolve administrative coding issues related to COVID-19 testing and vaccine administration. We will provide more information when it is available.
---
New ID Cards
Take a look at our new 2022 member ID cards your patients will be bringing to their upcoming appointments.
---
Available resources
Our website provides you with important resources and information to support you and your staff. Here's a sample of what's available:
Clinical Resources:
Medical Policies

- Medical policies provide you with the coverage criteria for specified conditions. You can find more information on the utilization management (UM) decision making process and how to obtain UM criteria in the Provider Manual.
Clinical Contact Information

- Clinical staff is available at 855-444-4647 Monday-Friday (8:30 AM - 5:00 PM). After hour coverage is available after 5 PM on weekdays and on the weekends.
Case Management Programs

- You can get more information on specific programs and how you can refer a member into one of our case management programs. Providers can refer by emailing

caremanagement@allwayshealth.org
Tobacco Cessation

- For members who are trying to quit tobacco, we offer a tobacco cessation program run by our Certified Tobacco Treatment Specialists. Providers can refer by email:

quitsmoking@allwayshealth.org
Health Coaching

- Health coaching is available for members trying to improve eating habits, increase their physical activity, manage weight and decrease stress. Our health coaches have all completed the rigorous Wellcoaches® school of coaching training program. Providers can refer by emailing:

healthandwellness@allwayshealth.org
Provider Manual
The Provider Manual includes important information on how you can support your patient. Topics in the Provider Manual include:
Quality Improvement Program
Utilization Management Decision-Making - This includes information regarding our decision-making process and procedures. We do not specifically reward practitioners or other individuals conducting utilization review for issuing denials of coverage or service, nor do we provide financial incentives to UM decision-makers to encourage decisions that result in under-utilization.
Credentialing and Re-credentialing Processes
Member Rights & Responsibilities
Practitioner Rights & Responsibilities
Interpreter Services
Pharmacy Benefit Program
Our website gives you the most up-to-date information about our Pharmacy programs, covered medications and the current medical necessity criteria. Pharmacy programs include:
Excluded Medication

- A medication which is considered to be excluded from the pharmacy benefit.
Pharmacy & Therapeutics Committee

- This Committee is chaired by the Medical Director responsible for pharmacy and is composed of practicing pharmacists and practicing providers with varying specialties, including behavioral health, internal medicine and pediatrics. It meets regularly throughout the year, no less frequently than quarterly.
Prior Authorization

- A pharmacy program which limits access to a medication by establishing criteria for appropriate use of a medication. These criteria must be met and documentation sent to us before the medication will be covered. Prior authorization is also required for exception to our mandatory generic medication pharmacy benefit.
Quantity Limit

- A pharmacy program that limits the number of units per time period for a specific medication based on recommended doses.
Step Therapy

- A pharmacy program which allows patients who meet criteria to have coverage for their prescription adjudicate without review based on available medication history.
Mandatory Generic

- A pharmacy program which requires a trial of an FDA approved generic substitution for a brand name medication, if it is available.
Tier Placement

- A pharmacy program that places medications in one of six co-payment tiers for benefit plans with a six-tier pharmacy benefit.
Therapeutic Interchange/Substitution

- A pharmacy program that involves the dispensing of a chemically different drug, considered therapeutically equivalent, i.e., will achieve the same outcome, in place of a drug originally prescribed by a physician. The drugs are not generically equivalent. Therapeutic substitutions are done in accordance with procedures and protocols set up and approved by physicians in advance. Therefore, the pharmacist would not have to seek the prescribing physician's approval for each interchange.
---
Preventative behavioral health service for Mass Health patients
Mass Health has introduced a new preventive behavioral health service for children up to age 21. Children who have a positive behavioral health screen may receive up to six (6) outpatient therapy sessions (individual, group, or family), even if they do not meet criteria for behavioral health diagnosis and therefore do not meet medical necessity criteria for behavioral health treatment. Preventive behavioral health services must be recommended by a physician or other licensed practitioner practicing within their scope of licensure to recommend such services. These outpatient therapy sessions may be delivered in community and school-based outpatient settings, services provided by a School Based Health Center are not included in this preventive pediatric behavioral health benefit.
---
My Care Family transplant process
For transplant authorization dates on or after January 15, 2022, please submit all transplant claims for My Care Family members directly to AllWays Health Partners. Optum will no longer be processing these claims on our behalf.
For information about submitting claims to AllWays, visit
allwayshealthpartners.org/providers/claims-information.
---
Medical policy updates
Seven medical policies were reviewed and passed by the AllWays Health Partners Medical Policy Committee. These policies are now posted to allwayshealthpartners.org.
The table below is a summary of the policies and the changes. For more information or to download our medical policies, go to allwayshealthpartners.org/providers/medical-policies and select the policy under the medical policy listings.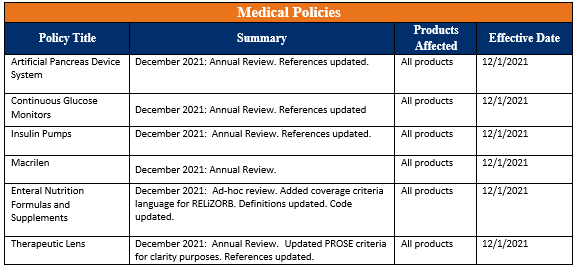 ---
Code Updates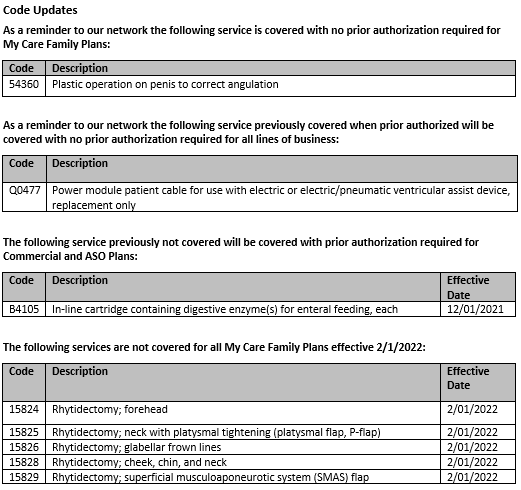 ---
Formulary updates