Featured story:
Browse our new vaccine resource page
Massachusetts will open the final phase of the vaccine rollout to the general public on April 19, 2021. If patients are hesitant to get the vaccine, we've created a dedicated COVID-19 vaccine page with a curated collection of resources for you and your patients:
Key messages to share with patients from the CDC
In this issue:
Medications obtained through the medical benefit
New products
New vaccine resource page
New guidelines
Hospital inpatient utilization report
New, revised, and retired medical policy updates
New codes
CPT code updates
Drug code updates
Request authorization for new-to-market medications through Novologix
Most medications covered on the medical benefit require prior authorization through Novologix (NLX). This now includes new-to-market medications.

Out of network providers should request authorization through AllWays Health Partners.
---
New limited network products meet customer needs
AllWays has experienced unprecedented growth in the commercial market. In response, we're developing new products that meet our customer's needs for high-quality, cost-effective care. This includes launching new limited network products, two of which are in-market right now.
You don't need to take any action. Your rates won't change, and we'll notify you when your practice is part of a limited network.

Read about Allies and Select Network below. You can find info about all of our products on our product reference page.
Allies HMO & Allies Choice
Designed to make high-quality care more affordable and accessible. Members will receive care at a top community hospital and get support from health navigators who ensure quicker access to care.
Visit our Allies page for providers and download the factsheet.
Select HMO
Select HMO members have in-network access to our new Select HMO network. Members will have access to comprehensive benefits at a lower cost through this limited network of high-quality providers.

Visit our Select Network page for providers


How do I know if I am participating in a limited network product?

You will receive an alert regarding your participation in the network when you check a member's eligibility in the AllWays Health Partners provider portal.

You can also confirm your participation in the limited networks by checking our online Provider Directory



What is the difference between Non-participating and Not contracted?


Non-participating means you are a contracted provider with AllWays Health Partners however you are not part of that particular limited network. Non contracted refers to a provider or group who is not contracted with AllWays Health Partners for any lines of business

---
New guidelines
As of March 1, 2021, AllWays Health Partners has published new guidelines to determine medical necessity for

Radiofrequency Ablation to Treat Uterine Fibroids

. The guidelines are called Radiofrequency Ablation to Treat Uterine Fibroids (Custom) – AWH. To access this criteria, providers should log in to AllWays Health Partners' provider website at allwaysprovider.org and click the InterQual® Criteria Lookup link under the Resources Menu.
---
Hospital inpatient utilization report
To review the latest quarterly hospital inpatient utilization report, click on the Reports tab in the Provider Portal and select Clinical Reports. If you do not have access to the Provider Portal, you may register online at allwaysprovider.org.
---
New medical policy updates
AllWays Health Partners has developed a new policy for the FDA-approved CAR-T cell therapy Tecartus. Tecartus is a treatment for adult patients with relapsed or refractory mantle cell lymphoma. Please see the table below for a brief summary.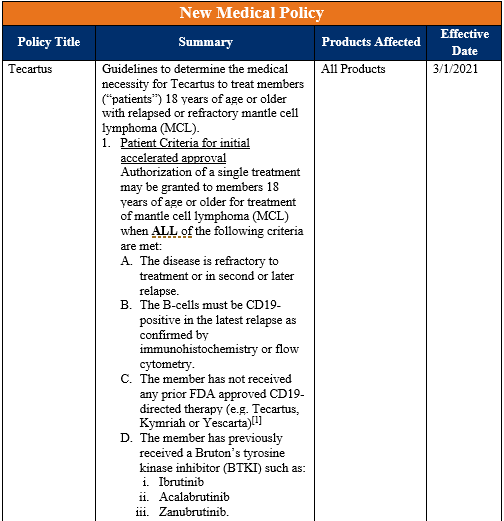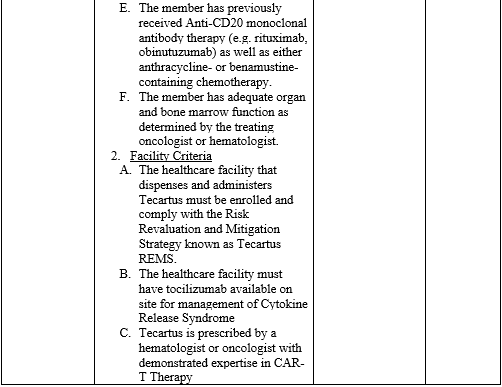 [1] Exceptions for non-FDA approved CD19 therapies will be reviewed on an individual case by case basis. A detailed medical review will be required.
One new medical policy, Intravenous Ketamine for Treatment-Resistant Depression, has been posted to allwayshealthpartners.org with an 4/1/2021 effective date.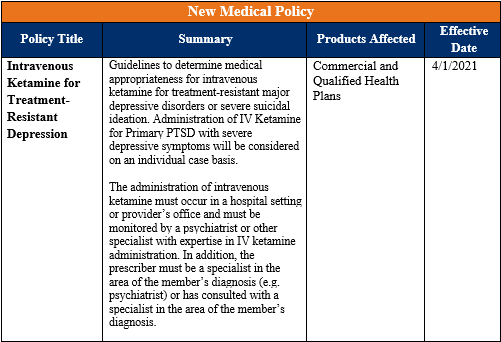 ---
Revised medical policy updates

---
Retired medical policy update
Effective 4/1/2021, the policy Home Prothrombin Time Monitoring Devices will be retired.
The codes associated with the policy no longer require prior authorization.
You will no longer find the policy on the AllWays Health Partners medical policy webpage
You will no longer find the customized policy in InterQual.


---
New Codes
Not Covered Experimental and Investigational: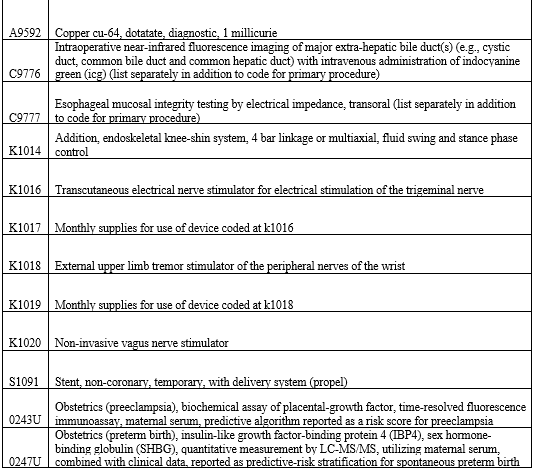 Not Covered per Benefit:


Covered when Prior Authorized: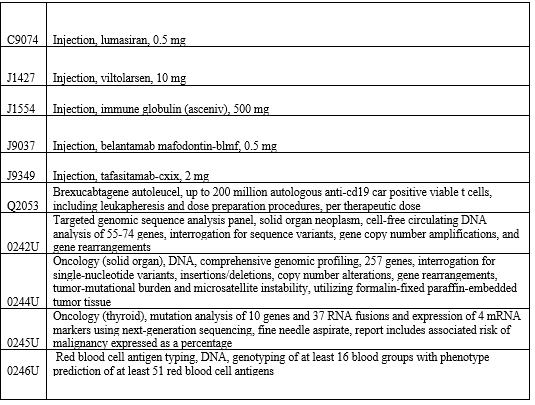 Covered with No Prior Authorization:

Covered with No Prior Authorization for My Care Family Members; Not covered for Commercial/ASO Plans:

---
CPT code updates
As a reminder to our network the following service is not covered E/I across all lines of business:

The following services previously covered with PA will not be reimbursable across all lines of business, please resubmit with CPT for Commercial and ASO plans only, My Care Family plans will be not reimbursable:

The following services previously covered with PA will be covered with no PA required: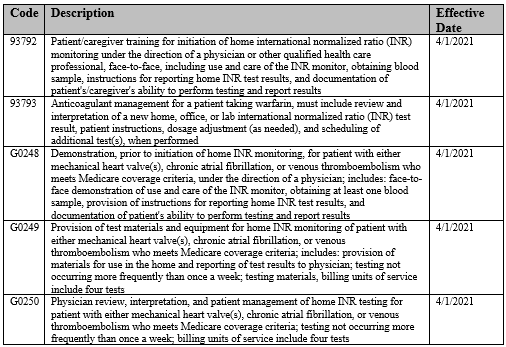 The following service previously not covered across all lines of business is now reimbursable with associated CPT code:

The following service is now covered as newborn preventive screenings for Commercial and ASO plans:

---
Drug Code Updates
The following drug(s) previously considered not covered experimental/investigational are now covered under the medical benefit; prior authorization required:

The following drug(s) previously considered not covered experimental/investigational are now covered under the medical benefit; no prior authorization required:

The following drug(s) covered under the medical benefit; prior authorization required will be represented by the following HCPCS codes effective 04/01/2021: